Let's say you're the priest at a church in a small Spanish town. The frescoes (especially one by Borja, a 19th c. artist from the town) in your church are damaged, and they need to be cleaned and repaired. Do you:
Call a university with a restoration department and ask for help

Call the Center for Borja Studies and ask for suggestions

Call the Catholic frickin' Church and ask them to spend some of their ill-gotten* funds on restoring or preserving the art

Have an elderly parishioner with no experience "fix things up" with absolutely no supervision
Obviously, you choose the final option. The result?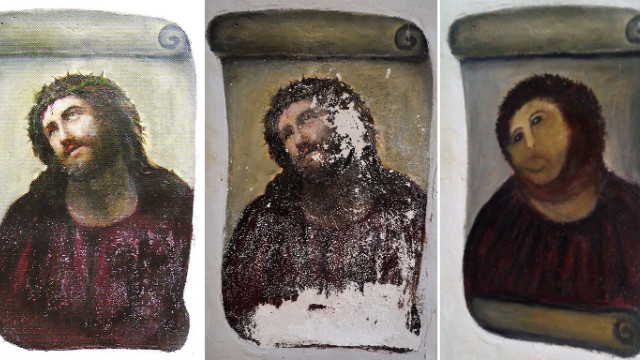 The CNN.com article compares it to a scene from the movie "Bean", but I think it's closer to the Seinfeld episode where George has to have his boss re-added a photo. Either way, strong work, Spain!
* If you argue with this term, I suggest you read some history on the Church's activities between, say, 400 AD/CE and today. Then we can talk. By "we can talk", i mean "you can admit the Church is as shady as shady gets".